Natural Building is a huge amount of fun! It's a great opportunity to connect with like-minded people and work in wonderful places on inspiring projects.
We are a not for profit BenCom, set up to serve the community of aspiring natural builders, particularly those who are typically under-represented in the construction industry. We offer training and educational services through both theoretical and practical courses.
We have been a part of a major European project called UpStraw, funded by the EU Interreg programme. As part of this project we have produced the UK's first Environmental Product Declaration for straw, as well as the UK's first Technical Guide for straw bale construction. Straw is a remarkable material that pushes the boundaries of sustainability within the built environment. Please feel free to browse our website, and visit Straw Works for further resources, including technical details for designing with straw to achieve current Building Regulation approval.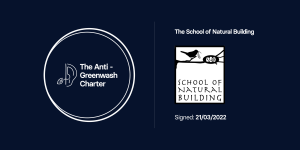 SNaB are a signatory of the ASBP Anti-Greenwash Charter. We have made a public commitment to transparency, accountability, fairness and honesty in our marketing and communications. You can find out more about the Charter here.
---
We look forward to meeting you soon.
Barbara & Eileen