How SNaB Works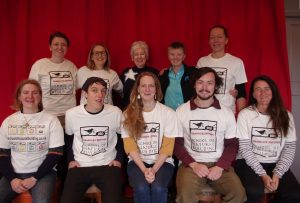 Natural Building is an artisan craft.  It involves intuition as well as skills, knowledge, technique and experience.  However, most people can grasp it, as it is essentially common sense combined with practice.  Other benefits of learning are that you will probably have a huge amount of fun, meet like-minded people, make new friends and get to work in some wonderful places on some fabulously inspiring buildings.
You do not have to join the School to take our training courses!  They are open to everyone whether you want to follow the full training programme or not.  If you subsequently decide that you do want to take the full training, attendance on previous courses will be taken into account. – see accreditation section below.
The School offers training in natural building to help you on your path, whether you want to be a natural builder and work in construction, want to understand how these materials really work so you can design better buildings, have a general interest in the subject and want to know more, or are just looking for a fun and active way to spend your time. Our training course is flexible and designed to fit around other commitments you have in life.
There may be opportunities for you to work with us as Associates of SNaB once you are trained, and for us to collaborate with you on your own projects.  Associates teach on our courses, give talks on our behalf and/or work in our Contract Build team.
Previous experience: We recognise that some of you have already attended many of our courses, or ones of similar quality offered by others, or already work for us as builders and trainers and wish to increase your existing skills.  This will be taken into account when we draw up your training route and discuss with you the cost of further training.
Stage One
Practical Building (PB).  For people who want to work for and with others, or simply have an interest in the subject.  You will be required to undertake the following –
 2 weeks Strawbale Building (SB) training: £650 (£65 per day)
2 weeks Clay Plaster (CP) training: £650
2 weeks Lime Plaster (LP) training: £650
3 days Car Tyre Foundations (CTF) training: £195
Followed by volunteering on our building sites for 1 week in each subject, except for CTF when the requirement is 3 days.
There is no requirement to follow the courses in any particular order, so that you can fit them around your own commitments but we suggest that you begin with a course in strawbale building.
This stage also includes attendance at the following 4 core courses twice (but only paid for once) in order to gain the theoretical knowledge needed
Planning & Preparing for Self Building (PBB): £75
Designing your Strawbale Building (FS): £75
Understanding technical details when building with straw (DD): £75
Learning about natural plasters(NP): £75
There is no requirement to take these courses in any particular order, but we suggest you  follow them 1-4 as above.  You may find it useful to take the theoretical courses before the practical ones and then take them again (for free) after you have completed all your practical courses.
An essential part of any practical skill is building up experience and learning how to deal with different issues that present themselves on a building site.  Therefore, part of the training is to work for a minimum of 3 weeks in each subject at a trainee rate on one of our suggested sites to build up your experience, or until we mutually agree that you are ready to progress to the next stage as a builder.
Total Cost for Stage One –  £2,445
See http://schoolofnaturalbuilding.co.uk/courses-2 for more info on these courses.
Some courses may be advertised at short notice because we work with self-builders who may not be able to give a long lead-in time.  We will advise all trainees of courses by email as they are finalised.
Payment
The cost for a trainee will vary depending on the chosen training path, and previous experience.
Your learning contract will detail your programme and its costs tailored individually for you, taking into account any exemptions you may have due to previous experience.  Payment for food, travel and accommodation during your training period is your own responsibility, although if we can help with this i.e. by offering cheaper communal accommodation or camping, we will do.
All payment is pay as you go and courses must be paid for at least two weeks in advance of the course start date.
Case Study and Portfolio
You are required to submit a written piece of work towards the end of your practical training.  This will take the form of a case study with a minimum of 2,000 words.  The case study can be on any of the natural building projects you have worked on with SNaB and the content should be mixed mode in that it should contain photos, video, prose, graphic representations, reflections etc.  We would also encourage you while undergoing the practical part of the programme to keep a record of what you are doing and record it in the form of a portfolio, or diary, with pictures, written pieces, video or recordings, a blog etc.
Accreditation
Currently, our training is accredited by the substantial reputation of Barbara Jones. We will hold a graduation ceremony once a year where the students who have finished their course will receive a certificate of completion of their training.
In addition, we are hoping that the course will also be accredited by an outside source at some point in the future.  In view of this, we encourage you to keep good records of your training and build up a portfolio that can be used as part of this external accreditation.