We are delighted to announce the UK's first technical guide for straw bale construction. This is a comprehensive resource for architects, designers and self-builders alike. It gives you everything you need to meet UK Building Building Regulations for any building method, be that pre-fab, load bearing, frame and infill.
The guide, which can be read here, has been throughly researched and collates current data and performance factors in the design and construction of straw bale buildings. It aims to address a lack of knowledge, to provide information that can be shared with designers, clients, developers, construction professionals, funders and others. By compiling in one place a collection of the current (2022) credible data from research and experience, the aim is to increase confidence and remove the barriers to using straw in construction.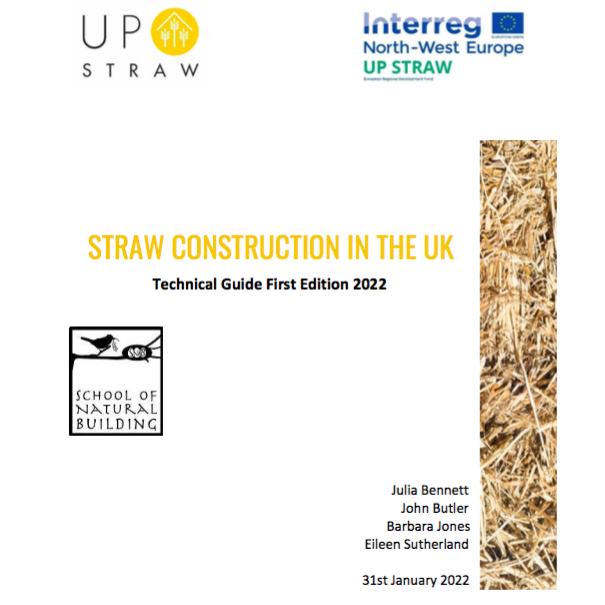 A brief summary of the contents can be seen below:
Why Build with Straw: Climate Change, Health and Wellbeing, Sustainability of straw, EU Context for Straw Construction.
General: Construction bale standard, Varieties of straw, Availability in the UK, Location, storage and transport and more.
Material Properties of Straw: Structural capacity, Foundations, Fire safety, Moisture content and mould, Thermal performance, Air permeability/airtightness, Embodied and Lifecycle Carbon, Deconstruction, reclaim and re-use, Indoor Air Quality & Covid Resilience and more.
Plaster, render and rainscreen cladding
Design: Recommended details, Designing with bales, Weather protection, Thermal bridges and breaks, Building Information Management/Modelling and more.
Straw Construction Systems/ Components/ Products in the UK/EU
Alongside the EPD for Straw, the Technical Guide was a huge project for SNaB, both of which were made possible by the European Interreg-funded Up Straw project.