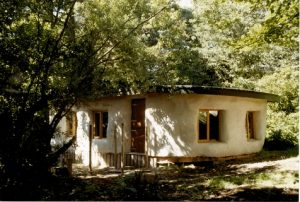 The first ever strawbale building in Ireland was built for the Steiner School in Hollywood, Belfast. They invited Barbara Jones to help them design and build a new loadbearing strawbale classroom in the grounds of their school in 1996.
The project manager was Rita Wild, and she managed to persuade many local companies to donate materials, and parents and volunteers of the school to work with Barbara as she taught and built this amazing small classroom, with one curved end. Under Barbara's guidance they built brick pillars for the foundations and made a timber box beam to sit on top. In the first weekend course they built the straw walls and placed the wallplate.
Local roofers then built the roof, but Barbara was called back because they had managed to knock the curved wall out of true, and it was leaning at an alarming angle! Undeterred, she put a ratchet strap around the wall through 2 windows and attached to a tree and pulled the forgiving straw back into place. Barbara and her team returned on several occasions to work with the parents and volunteers to complete the trimming of the walls, plaster them, and give advice on the rest of the build.