Lime Rendering in Somerset: 5 day course from 10 to 14 June 2019
This course is on the same site and building as the Straw Bale Building Course from 13 to 17 May.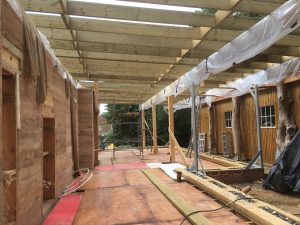 This is a 1 acre wooded site, with a stream bordering the land. It is in the centre of Castle Cary surrounded by 21 properties, in a conservation area and all the trees on site are protected.
The property is built on Stone Gabion foundations, a concrete free build, with a Timber and Steel frame and a rammed earth wall as a central support – as well as internal  tree supports. The sedum roof is on and planted and the separate workshop, which is graded into the slope with Gabion walls,  is complete – the dwelling is now awaiting its straw walls and lime rendering! The walls will be infill rather than load bearing.
Whilst participating on the course you will understand: Why we use lime plaster, how to make the mixture, how to apply it to strawbale walls and you'll learn just how beautiful it is! Lime plastering is great fun. It's also a very effective covering for strawbale walls, providing a beautiful, warm, cosy environment. Lime plaster helps to control moisture in a building and enables walls to breathe. It is also beneficial to the health of those living there and has great acoustic benefits.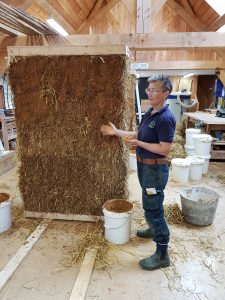 Rae Parkinson will be teaching on this course. With many years of experience and an outstanding reputation in the field of natural building, Rae ensures course participants have a fun, value packed time.
Cost
£325 inc. refreshments, hot drinks and vegetarian lunch
Times
We will work from 8:45 – 17:00 each day
Accommodation
Please request details of local accommodation. There is some limited free camping available, on site and nearby.
Bookings
Email allan@schoolofnaturalbuilding.co.uk or book direct using PayPal: