James Newton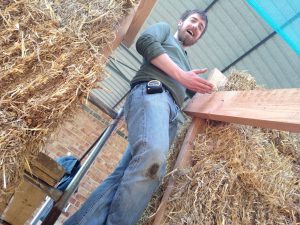 James is a Chartered Architectural Technologist who currently works for Native Architects in York.  James is also a student of the School of Natural Building (SNaB).
Where did you start your journey with natural building, James?
I guess it started at Sheffield Hallam Uni where I did my degree. There was a strong focus on the importance of sustainable design on our course but I found, when it came to my design projects that my approach to sustainable design varied from my tutors. I was interested in straw bale, rammed earth, hempcrete and sheep's wool – looking at modest designs with renewable, healthy, low-tech materials. Whereas it felt like I was being encouraged to design big and use SIP (Structural Insulated panel) construction, steel and large modular construction where there was no real concern about what materials you used to insulate with.
Have you always felt this way about sustainable design?
More and more really…I read Barb's book at Uni and that confirmed my thinking. I've always been passionate about materials and working for Native Architects these past 11 years has honed my thinking. They're a great company for encouraging young people and listening to them. In 2009 Native and amazonails ran a joint event, which turned my thinking a deeper shade of green. Then I went on a Straw Works course with Kuba in Poland. I even took my brother to try and spread the word. Through onsite experience I got a better understanding of buildability and currently I am always on the lookout for ways in which the friction between designers and builders can be managed. Designers need to design to build and builders need to have an open mind to using alternative building methods.
This relationship between designers and builders is particularly close to your heart at the minute because of your involvement with YorSpace I guess?
Yes, that's right. YorSpace is a York based group of people who have formed themselves into a Community Benefit Society, which is a form of cooperative, with a view to acquiring land and building a low cost, sustainable community. York is the most expensive city in the North to live in (Shelter report 2014) and our group is looking for ways of reducing housing costs without compromising on sustainability.  We're currently holding positive discussions with City of York Council about a site, so we're keeping our fingers crossed. Our project has been shaped by Permaculture ethics – influenced by my study for my Permaculture diploma.
So with all this knowledge and expertise at your fingertips what attracted you to SNaB?
I thought it provided a missing part of the jigsaw in that the theory courses have extended my knowledge of materials and their applications and the practical courses have given me hands on experience and an insight on how to design for build.
You're also involved in SBUK?
Yes, I'm on the board and I'm excited to be part of the organisation, which is in its infancy. We're currently working on redeveloping our website, identifying SBUK champions to work on the transnational UP Straw project and thinking about holding a Strawfest event in 2018. So it's all go!
Yes, you seem to be spinning lots of plates right now! So, I'll leave you to get on and thanks so much for talking to me about your natural building journey.
If you are interested in the organisations and projects mentioned in this article you can find out more information here:
Native Architects  www.nativearchitects.com
Yorspace.org  http://yorspace.org
Permaculture Association  https://www.permaculture.org.uk