Dunbalen: an early example of contractor built prefabricated straw panel house in Aberlour, Moray, Scotland 5 bed house built in 2011 for Kim Siu of Get Rugged, who support self builders.
This 5 bedroom family home was built using a straw panel system by Carbon Dynamic.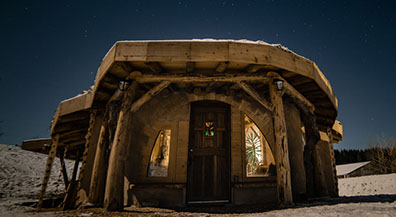 Hobbit Hideaway: inspired by Hobbit houses, this amazingly gorgeous timber and strawbale holiday home was the inspiration of Kim Siu, built by trainees under the supervision of Hartwyn who learnt all about timber, straw, lime and clay. You can read the story of the build and watch the journey here.