Car Tyre Foundations Course near Stirling
March 29/30/31st 2019 (This course is now fully booked)
We are building an offgrid strawbale house as part of the development of our 5.6 acre site as a croft.  The emphasis is on sustainable living using low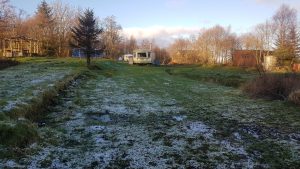 impact materials and building techniques.  This first phase will create self-draining foundations without the use of concrete or damp-proof course for a modest, single-storey load-bearing strawbale house with very low energy needs.
On this course we will be building the car tyre foundations. Over the 3 days you'll discover how to use an up-cycled material which would otherwise go to land fill, you'll also learn all you need to know about this fantastic alternative for building foundations – and with NO concrete in sight!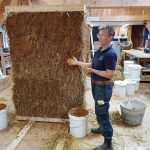 Rae Parkinson will be teaching on this course. With many years of experience and an outstanding reputation in the field of natural building, Rae ensures course participants have a fun, value packed time.
Cost
£195 inc. refreshments and vegetarian lunch
Times
We will work from 8:45 – 17:00 each day
Accommodation
Please request details of local accommodation available.
Bookings
Email allan@schoolofnaturalbuilding.co.uk or pay direct using PayPal below: