Car Tyre Foundation Course at Pundyburn Croft, Balfron Station, Stirling G63 0QZ.
March 29/30/31st 2019
We are building an offgrid strawbale house as part of the development of our 5.6 acre site as a croft.  The emphasis is on sustainable living using low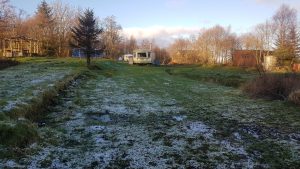 impact materials and building techniques.  This first phase will create self-draining foundations without the use of concrete or damp-proof course for a modest, single-storey load-bearing strawbale house with very low energy needs.
On this course we will be building the car tyre foundations. Over the 3 days you'll discover how to use an up-cycled material which would otherwise go to land fill, you'll also learn all you need to know about this fantastic alternative for building foundations – and with NO concrete in sight!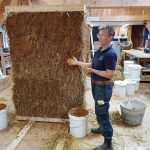 Rae Parkinson will be teaching on this course. With many years of experience and an outstanding reputation in the field of natural building, Rae ensures course participants have a fun, value packed time.
Cost
£195 inc. refreshments and vegetarian lunch
Times
We will work from 8:45 – 17:00 each day
Accommodation
There is no accommodation on-site but there are lots of options in the vicinity, as shown below:
Nearest campsite:
The Trossachs Holiday Park (2.4 miles) – trossachsholidays.co.uk, 01877 382614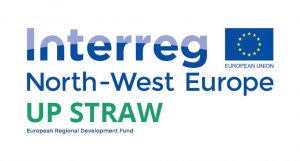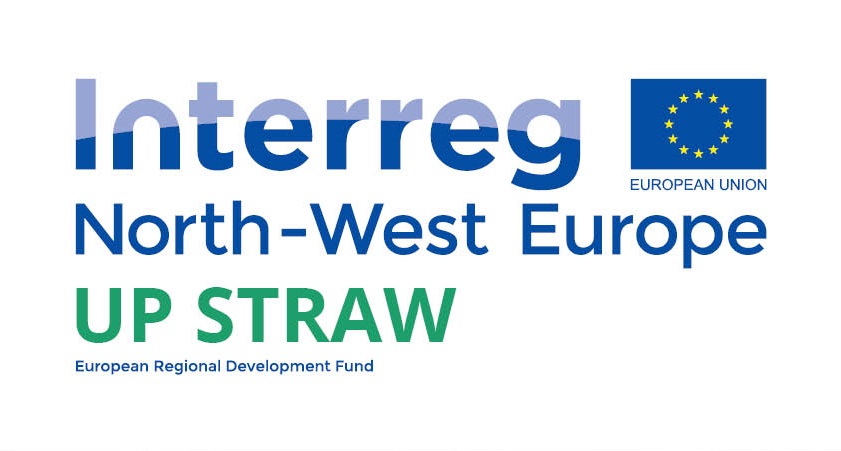 pitches for camping, touring caravans and motor homes
caravan holiday homes
lodges
Local AirB&Bs:
Good selection available within a 10-minute drive.  Use postcode G63 0QZ for searching.  It would be helpful if non-driving participants were to consider Aberfoyle and Gartmore, as we can collect small groups from there.  There is a small Co-Op in Aberfoyle that should provide for most local/daily needs.
Hotels and B&Bs:
Cheap and Cheerful:
the Rob Roy Hotel (4.6 miles) – robroyhotel.co.uk, 01877 382262. This hotel usually has good packages for dinner, bed and breakfast, and is only a short walk away from Aberfoyle.
the Forth Inn (5.3 miles) – forthinn.com, 01877 382371. In the centre of Aberfoyle.
More Pricey:
Gartmore House (3.2 miles) – gartmoreestate.com, 01877 382991. Also do residential courses in various crafts and dance!
The Lake of Menteith Hotel (8.1 miles) – lake-hotel.com, 01877 385258. Beautiful spot for a romantic weekend.
MacDonald Forest Hills Hotel and Spa (9.4 miles) – macdonaldhotels.co.uk, 01877 389500
Local Tourist Information Office: Aberfoyle
How to get here:
Public Transport:
The site is in a rural area and is difficult to access by public transport.  The closest railway station is in Stirling, but there are no buses available that would get you here in time for 8:45am. If you do wish to use public transport, you would need to take the bus B12/C12/C12a from Stirling Bus Station (next to the train station) to Buchlyvie on the Thursday evening and return on Monday morning, staying locally in between.
Our local taxi service is Buchanan Cars – 01877 382666
By road:
Vehicle access and on-site parking space is restricted.  It may be possible to arrange collection in small numbers from Gartmore and Aberfoyle, or arrange for cars to be parked locally (TBC).  If you plan to use your own vehicle, please contact George ASAP to discuss arrangements.  His email address is: georgedrever264@gmail.com  Parking may be on a first-come basis, depending upon numbers.
Please note: no dogs on site.
Bookings
Email allan@schoolofnaturalbuilding.co.uk or pay direct using PayPal below: