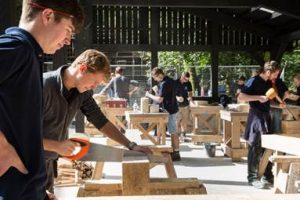 The Prince's Foundation for Building Community is recruiting for its Building Craft Programme 2018-19
The 8 month Building Craft Programme gives practical experience in traditional building crafts and an opportunity to gain a Heritage Skills NVQ Level 3.
This course is designed for craftspeople looking to bridge the gap between basic qualifications and becoming a master craftsperson working within the heritage sector. The programme involves a Summer School and 10 week Live Build followed by placements with traditional building companies and master craftspeople across the UK. Crafts include: stonemasonry, joinery/carpentry, timber framing, bricklaying, plastering, thatching, metalwork and painting and decorating.
All participants are paid a monthly bursary of £1,000.
Application deadline: 23rd February 2018
For more information visit: www.princes-foundation.org/educating-people/heritage-skills-building-crafts/building-craft-programme