The Big Straw Bale Gathering 2018 was a huge success with almost 100 participants enjoying a rich variety of presentations, workshops and activities exploring the wonderful world of strawbale building.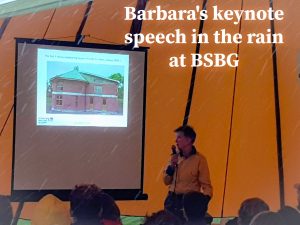 Our very own Barbara Jones kicked off proceedings with a keynote intriguingly called Straw Trek: the next generation – a journey through time and space.  In this superbly illustrated talk, Barbara outlined the developments there have been in strawbale building.  She drew attention to some of her many achievements during this period, including planning permission for car tyre foundations; the first strawbale council houses in the UK and the development of load bearing building.
Peter Beresford and Henrik Saarinen explored some of the Engineering Aspects of Straw Building in their joint talk. Peter founded Structural Solutions 23 years ago, building on experience in the design of steel/concrete solutions. Henrik joined the company two years ago and has been responsible for the engineering design of Down to Earth's new residential building.
Next came Paul Jennings with Permaculture Design & Strawbale Building. Paul explored his own experiences of building a strawbale home and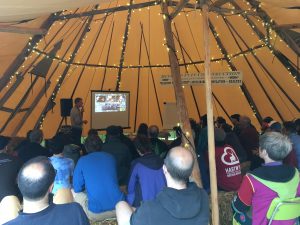 posed the question: What might buildings, settlements and even regions look like through the lens of Permaculture design? Paul has built his straw-bale family home on a 'One-Planet Development' smallholding in Wales (costing £12,000). The full transcript of his talk can be found here on the Low Impact site.
After a truly scrumptious lunch, a lively and well informed Discussion Panel ensued, followed by Dr Judith Thornton from Aberystwyth University talking about What's in a bale and why it matters'.  Judith is Low Carbon Manager in the BEACON project working with companies on innovations relating to plant-based building materials.  She was part of the team building the world's first straw bale house out of Miscanthus. She is interested in the relative merits of different straw types and in optimising bale production for the straw bale building industry.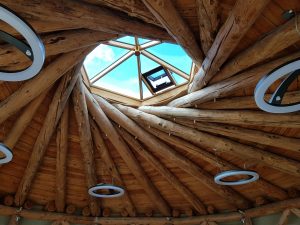 After tea, Chris Vernon described his and his wife Erica's experiences of building a roundwood timber frame, strawbale house on their One Planet Development in Carmarthenshire.  Chris also described the One Planet Council, which enables and promotes sustainable development in Wales. This was followed by Craig White and his presentation We Can Make – Affordable Homes, Renewable Materials. Craig is a developer, architect and renewable material entrepreneur. He is leading work on a model of prefabricated, community-led and financed affordable housing.  He is a co-founder of White Design and works closely with ModCell.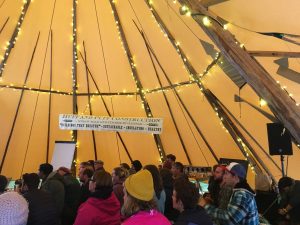 The first day ended wonderfully with a keynote speech from Ed and Rowena Waghorn. Their episode of Grand Designs, which took over 10 years to complete, is a work of art.  You can find out more about them and view their build through their website: https://lifeonthehill.co.uk/
After a quiet and studious evening (not true: strawbalers sure know how to party :)) Sunday began with some gentle Qi Gong and short presentations from attendees, one of whom was UP STRAW's Wouter who discussed the potential of blown straw in building.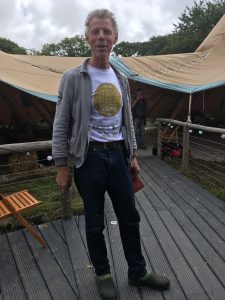 This was followed by another well informed and lively Discussion Panel.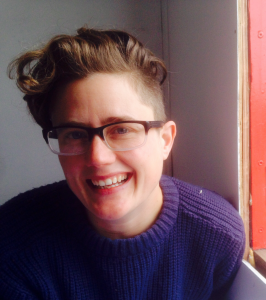 Emma Appleton enlivened proceedings with an energetic and energising presentation called How can our business be anti-capitalist? And is that even possible? Emma believes that a building site is a transformative place for everyone involved. And it is a perfect place to begin to create new systems and practices that experiment with a new social and economic power dynamic. A change is possible beginning with ourselves, our communities and our workspaces. You can engage further with this discussion by visiting Emma's website: http://emmaappleton.co.uk/ and joining in the Big Building Experiment.
Noel Isherwood came next. He is an architect and urban designer who creates and develops low carbon communities and sustainable buildings. Noel also led a number of live build projects at the Prince's Foundation. Notable among these is the outdoor performance stage at the National Botanic Garden of Wales, made from green oak, local stone and Welsh slate.
Peter Schubert of Capital (A) Architects talked next about Straw and other regrowing building materials. Peter's architectural practice was founded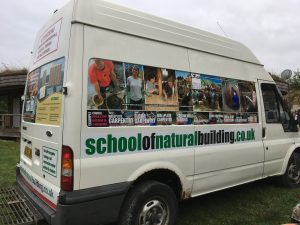 with an ambition to realise 'low impact – high efficiency' urban co-housing projects as an alternative to the standardised real estate offer.  He is currently developing innovative building techniques applying re-growing building materials such as timber and straw.
The final presentation of this year's BSBG came from Omer Saatcioglu of the University of Bath. He is a visiting Research Fellow in the Centre for Innovative Construction Materials and currently is employed as an Assistant Professor at Istanbul Kultur University.  Saatcioglu has taken an active role as an architect in designing and constructing Turkey's first load-bearing straw bale building.
In addition to the presentations, there were four Workshops: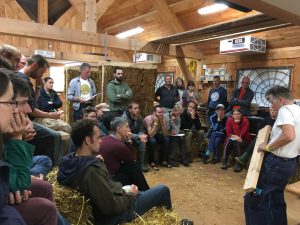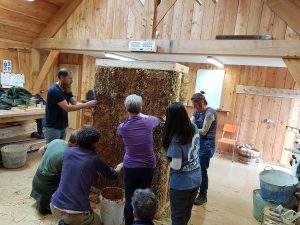 By the end of the two days, there was unanimous agreement that the first BSBG was a tremendous success!  Congratulations must go to Straw Bale UK Directors, Jeffrey Hart, Phil Christopher, Mary Rawlinson, Cypren Edmunds and James Newton for their hard work and total commitment to ensuring the smooth running of the event. We are also extremely grateful to Down to Earth for being such excellent hosts and providing a perfect venue and setting.
Final thanks must go to all the generous sponsors, including UP STRAW and Interreg NW Europe.